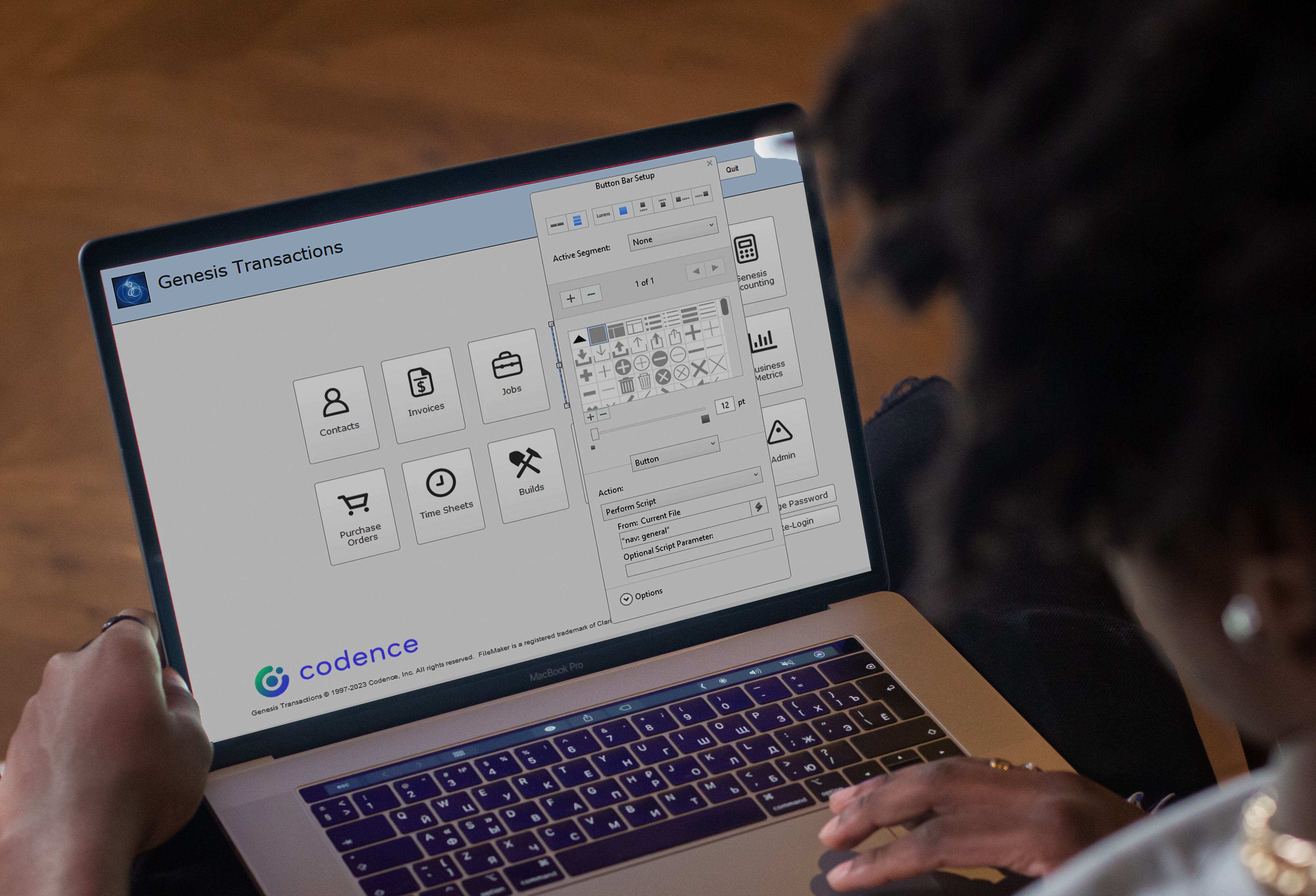 DO BOTH: BUY AND BUILD
Business Operations Management in Claris FileMaker
Genesis Transactions helps you eliminate redundant data entry, improve control and streamline processes by giving you the ability to process transactional data securely and reliably in one central FileMaker-based system.
As part of Genesis Financial Suite, Genesis Transactions integrates fully with Genesis Accounting (General Ledger, Accounts Payable, and Accounts Receivable) and Genesis Business Metrics (advanced financial analysis and business intelligence), so you can manage standard functions customized for your business including:
Customer Management
Vendor Management
Invoicing
Purchasing
Inventory Control
Manufacturing Control
Job Management
Vendor and Customer Returns
Adapt to Your Business Needs
Genesis Transactions provides standard business functions that can then be extensively customized and tailored.
Contact and Vendor Management
Common business tools allow you to get started with customers, vendors, jobs, inventory, and manufacturing control modules.
Invoicing & Purchasing
Coupled with Genesis Accounting or stand-alone, Genesis Transactions manages complex billing workflows and invoicing.
Easy FileMaker Deployment
Host on the Cloud, through FileMaker Cloud or Amazon Web Services or another hosting provider, or on your own server. Across a Wide Area Network, we usually recommend Remote Desktop, AppStream access, or a similar technology.
Integration
Built on FileMaker, Genesis Transactions can integrate with Web-based apps, mobile apps, SQL back-ends, REST-based API solutions, and more.
Transactional Integrity
Delivers robust, industry-standard security, data integrity, and control of user privileges. Reliably process large data volumes across multiple tables.
Built-in Reporting
Use reports within Genesis Transactions or combine with Genesis Business Metrics for powerful reporting tools.
Don't Start from Scratch: a
FileMaker Framework
Best of Both Worlds: Custom and Pre-Built
Genesis Transactions gives your business a running start by providing pre-built modules and extensive customization tools to create your FileMaker business applications as you need. It integrates seamlessly with Genesis Financial Suite to drive data to and from your front-end production systems into your accounting and reporting solutions.
Workplace Innovation Platform
Build on the FileMaker platform, with Genesis Transactions you can adapt your software to the changing needs of your organization. The development team at Codence has worked extensively with FileMaker for decades, are recognized and well-established Platinum-level partners with Claris, and can bring a wealth of business experience to help you make FileMaker a competitive advantage for your business.
Frequently Asked Questions
Does Genesis Transactions come with open code?
Yes and no – certain modules are fully accessible to a developer to add to the functionality of Genesis Transactions as needed. You also get access to Layout mode and new scripts so you can integrate features and modify interfaces. Further, we often collaborate with our clients to build additional functionality in integrated files that are 100% theirs to build as they wish.
My information is sensitive. How does Genesis protect my data?
Genesis protects data while maintaining strict accounting protocols. We make use of FileMaker's encryption and SSL support, Genesis provides both complete and central control of user privileges, and our unique transactional integrity architecture is a cornerstone of the products.
How can I get a demo of Genesis Transactions?
We'd love to give you a guided tour of Genesis Transactions. Contact our sales team to schedule a tour.
Can I host Genesis on the Cloud?
Yes, absolutely. There are a lot of options for deploying FileMaker solutions, with various pros and cons. We've deployed on private servers, Amazon Web Services, and FileMaker Cloud, as well as with third party hosting. Often we'll make use of Remote Desktop or AppStream technologies to provide optimal performance. We strongly encourage our clients to deploy Genesis on the same server as their other FileMaker solutions. We review server specifications and Internet connectivity before determining a hosting plan. Please explore the options with our team.
Is Genesis Transactions compatible with Desktop, Mobile and Web?
The out-of-the-box features of Genesis Transactions work best on Windows and Mac desktops, often (but not always) via Remote Desktop connections. While Genesis is not optimized for mobile or web browser access, we often customize solutions to deliver data and features of Genesis on those platforms. It really depends on your needs as to how best to approach the design of your system. Speak with one of our consultants — our experienced developers can help explore the options with you.
Explore Genesis Today
Speak to one of our expert consultants about Genesis Transactions today. During this free consultation, we'll address your questions, learn more about your business, and make some immediate recommendations.