Workplace Innovation Platform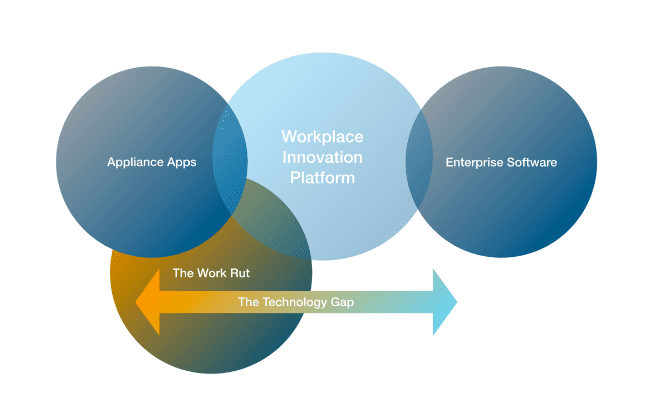 It's ironic – somewhat like living in an urban food desert – where despite the overwhelming abundance of apps, software, cloud platforms, and IT services in today's world, manufacturers of all types and sizes can get stuck in a frustrating technology gap.
Familiar Feeling
This work rut feels all too familiar; repetitive tasks, where people might be stuck entering the same data over and over again in multiple systems with critical information being buried in the isolated silos of single documents and then lost in the junkyard of email attachments or disorganized file servers. Or various workarounds that lone individuals create, but then aren't shared or established as best-practices across groups. Surely, your team can sense that and knows there must be a better way – but everyone is too busy or they lack the tools to climb out of the rut.
Two decades ago, new technologies like email and teleconferencing fueled a dramatic boost in productivity. Information sharing grew. Collaboration among teammates became easier. Productivity accelerated rapidly during the 1990s and early 2000s. Today; however, it seems this plethora of technology works against us as much as it does for us.
Problem-solvers at all levels need tools that facilitate innovation and aren't absurdly expensive or don't require legions of software developers to create. This technology gap exists once someone steps up from appliance apps – software geared toward individuals like Microsoft Excel, email, or their own personal task lists – and need to share data and collaborate with others.
Bridge The Gap
One company in the military and aerospace industry struggled with just such a bind: as a small, low- to mid-volume manufacturer, with unique quality-control requirements, it was struggling to be served by a combination of spreadsheets and off-the-shelf or home-grown software.
"Our production process was difficult to track and frustratingly inefficient due to a manual, handwritten process and yet, there's no way we could spend millions on some massive, complex ERP," said Scott Lindberg, vice president of Quell Corporation.
Unfortunately, rather than bridging the gap, teams can often step off a cliff. The alternatives to appliance applications and working in single documents have historically been expensive enterprise-level ERP systems; massive IT software projects that get bogged down, or ill-fitting "approved" canned solutions that can often make matters worse.
Workplace Innovation Platforms
This is where Workplace Innovation Platforms step in: they strive to put effective tools into the hands of team leaders, do-it-yourself fixers, and problem-solvers. Less the domain of IT, they're entirely centered around the people who invent, create, and share tailored solutions with their teammates. Examples include Claris FileMaker (an Apple subsidiary), AirTable, Quick Base, Google App Maker, and an array of others.
Quell, a manufacturer of military aerospace and spacecraft electronic components, turned to Codence to create a lightweight system that tracks orders, allows assemblers to check parts in and out in the manufacturing process, as well as monitor quality controls. In a matter of a few months, the team went from sketches on a whiteboard to finished software that replaced paper job sheets with iPads scanning barcodes.
Lindberg noted the results: "Our team worked hand-in-hand with our software developers and designed a system that perfectly fits our needs. It immediately had a huge impact and we've seen a measurable 23 percent increase in our manufacturing throughput."
Apps built on Workplace Innovation Platforms cover the gamut and serve all sorts of teams. They're used at Fortune 100 companies on down to small non-profits. Often, but not always, they assist productivity. Examples include time clock apps tied to GPS and project data, manufacturing workflows, customer satisfaction data, sales orders, marketing campaign approvals, executive dashboards, integrated data exchanges, and so on. There are literally thousands, if not more, possible use cases.
DIY Or With A Trusted Advisor
That said, it's important to recognize that Workplace Innovation Platforms are not simplistic "no code" options. They comprise robust scripting languages, professional-grade calculation engines, different hosting options (including private cloud and local server choices), and deployment to desktop, mobile, and web together. Lastly, it's critical that they provide rich application programming interfaces for integration with other technologies.
These platforms allow both professional developers and DIY "technically minded" individuals to create shared, light, flexible apps among team members and to invent new features in an iterative, ongoing basis. On the business side, Workplace Innovation Platforms are best when supported by a mature, well-funded company, coupled with a broad community of third-party developers, tool builders, products, and more.
Focus On Growing Your Business
By choosing the right tool-building platform, your teams can harness their need for invention-by-necessity. Rather than be stymied by IT departments with constrained budgets, your workgroups, supported by IT, can create and solve their own problems efficiently, effectively, and without political resistance to change.
Business leaders and technology professionals owe it to the people who depend on them to think about software in less binary ways. It's not just about either the individual or the enterprise. The team is where real innovation can happen and get people out of their work ruts.
CEO
Scott is an expert in FileMaker and other technologies, with decades of software development and a lifelong love for inventing new apps. Deeply passionate about both project management and design. His family has deep roots in Colorado, he loves spending time in the mountains, and is an enthusiastic cook.
Subscribe to get the latest in your inbox.
Built with you in mind
Speak to one of our expert consultants about making sense of your data today. During
this free consultation, we'll address your questions, learn more about your business, and
make some immediate recommendations.